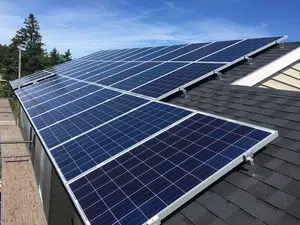 A spokesperson for the Antigonish Community Energy Co-op says things are going well as they move into the third year of their group buy.
ACE Co-op members have an information session in St. Andrews Tuesday night.
Patrick Yancey, Communications and Membership Coordinator, says they've helped roughly 50 homes and businesses in the area make the switch to solar power.
Yancey tells The Hawk they're very excited with how things are going.
"We account for about 20 per cent or so, of the all-solar installs in Nova Scotia since we've gotten started," he says. "We're excited about all of that; we're excited to move forward with the next group buy."
Yancey says the group buy allows for a 10-to-15 per cent price break on shipping and equipment that's passed on to their members.
He says there's also a community information session in Margaree in March.
Photo credit: ACE Co-op