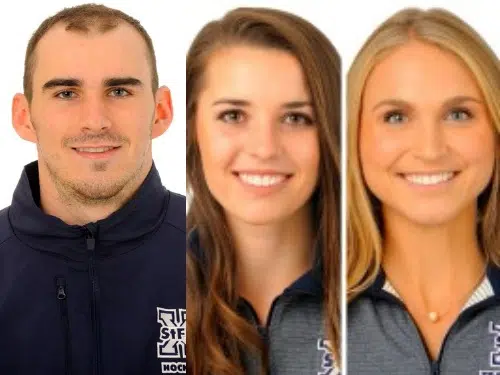 A hockey goaltender and a pair of track and field athletes have earned the latest StFX athlete of the week honours.
Chase Marchand earned the award in the male category; he kicked aside 31 shots and was named player of the game in the first game of the second round of AUS playoffs against the Acadia Axemen.
Marchand then earned a 23-save shutout in game two, before being named player of the game and stopping 38 shots in a 1-0 loss to the Axemen in game three Sunday.
Two track and field athletes are co-winners in the female category following the recent AUS Championship; Hayley Wilson, sprinter/jumper, and Allie Flower, sprinter, have split the honours.
Wilson earned a trio of individual medals and took a silver medal as part of the 4x200m relay team.
Flower won two individual medals and added another pair of medals in team competition.