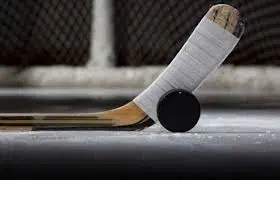 The Inverness/Baddeck Academy Rebels visit the Eskasoni Warriors in the second game of their first-round, two-game total goal series in the Cape Breton West High School Hockey League playoffs.
Eskasoni won the first game of the series 4-1 in Inverness Tuesday.
Game time is 7 p.m.
The winner advances to face Cape Breton Highlands Academy/NDA in one of two best-of-three league semi-final series; Dalbrae and Richmond Academy meet in the other semi-final.
Both of the province's Quebec Major Junior Hockey League teams are on the ice.
Antigonish's Blade Mann-Dixon and the Halifax Mooseheads host the Victoriaville Tigres at Scotiabank Centre at 7 p.m.
The Mooseheads (39-14-7), who have won five of their last six, are second in the eighteen-team league with 85 points, five points behind Blainville-Boisbriand for top spot, and two points ahead of third-place Rimouski; the Tigres (34-20-6) are eighth with 74 points.
It's the second and final regular season game between the teams- Victoriaville shutout Halifax 2-0 at home in October.
St. Andrews' Declan Smith and the Cape Breton Screaming Eagles continue their six-game road trip through Quebec when they visit the Gatineau Olympiques at 8:30 p.m.
The Screaming Eagles (26-26-7), losers of four straight and five of the last six, are tied with Baie-Comeau for 12th with 59 points, eight points behind Sherbrooke for 11th, and a point ahead of 14th-place Moncton; Gatineau (31-22-6) is 10th with 68 points.
The teams have met once so far- Gatineau doubled Cape Breton 6-3 in Sydney in December.