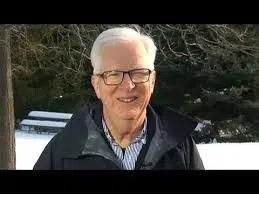 The senior climatologist for Environment Canada says there's uncertainty regarding what spring will bring because their models are changing.
Dave Phillips says they believe the season will be warmer than normal once it actually hits.
Spring officially starts Tuesday afternoon.
Phillips tells The Hawk the changeover comes with time.
"That's what really the spring is about- it's about the fact that you get this kind of one or two days where it's kind of winter-like," he says. "Then you're followed by three or four days of spring-like or almost summer-like (weather), so it's a transition season, and we think it'll probably unfold like that."
Phillips says we can't write off winter just yet; as much as 40 centimetres of snow could still fall, even though winter is coming to an end.
He says we need to be patient for a bit longer, despite the start of the new season.
"You know that little folklore I love is- 'Till April's dead, change not a thread,'" he says. "Don't take off the snow tires, don't put away that balaclava or the parka or the snow pants quite yet, (even though) we know that it's winding down."
Phillips says it's a transitional season, and there's a difference between the first spring day and the first day of spring.
He says the post-winter season always hits our region a bit later than the rest of the country.