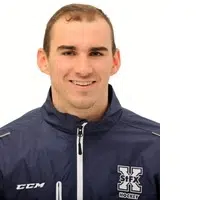 A StFX hockey player is the final AUS male athlete of the week for the 2017-18 season.
X-Men goalie Chase Marchand earned the conference award for his play in the University Cup in Fredericton.
Marchand made 23 saves in StFX's 6-2 quarter-final win against Brock, he stopped 42 shots in a 5-4 overtime win against UNB, the top-ranked host team, in the semi-finals Saturday, then made 23 saves in a 4-2 loss to Alberta in Sunday's championship game.
Marchand was named the StFX male athlete of the week Monday.