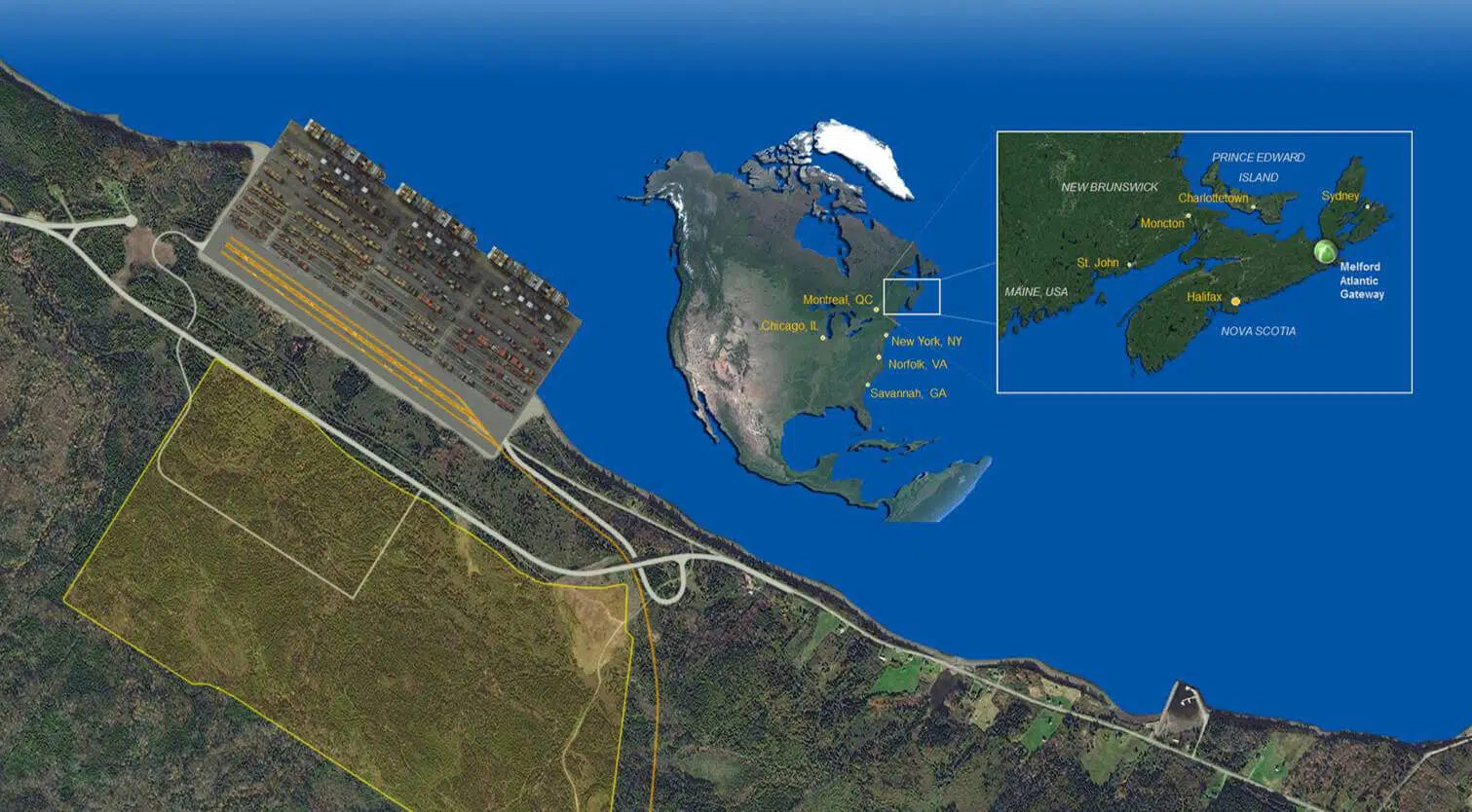 Officials with the proposed Melford International Terminal in Guysborough Co. say they're in the final stages before they select the successful international engineering firm.
Richie Mann, the vice-president of marketing and government affairs with Melford Atlantic Gateway and Melford International Terminal, says they started with about 10 firms; they've narrowed it down, and have interviewed representatives from three possible groups.
Mann tells The Hawk they hope to make the right choice soon.
"We don't anticipate it will take too long- we obviously want to get on with this, (but) we're not going to rush it," he says. "Finding the best partner going forward is the primary focus here, so we'll concentrate more on getting it right than getting it done quickly."
Mann says they can make qualified presentations about possible service to carriers.
He says global containerization has dramatically changed for a number of reasons recently, including raising the Bayonne Bridge in New York, which allows larger vessels to come to our coast.
Mann, who also serves as the president of the Strait Area Chamber of Commerce, says new legislation that allows officials in the Cape Breton Regional Municipality to sell or lease certain land for less than market value is a distraction as they try to progress, but they believe their project is "far superior" to any others proposed.
Bill 85 passed third reading Thursday.
Mann says it was nice to see Tory MLAs Alana Paon, who represents Cape Breton-Richmond, and Allan MacMaster, the representative for Inverness, stand up and oppose the bill, but they haven't been able to get an explanation from officials with the provincial government, who gave them no breaks when they purchased their land.
He says they hope pieces align for a big step in 2018.
"We always try to shy away from timelines because that's not something that's totally in your control," he says. "In a perfect world, we'd like to see something significant happen this year to get started, but that involves our partners, and it involves the carriers as well."
Mann says they estimate the total cost of the project will be in excess of $300 million.
Photo credit: SSA Marine