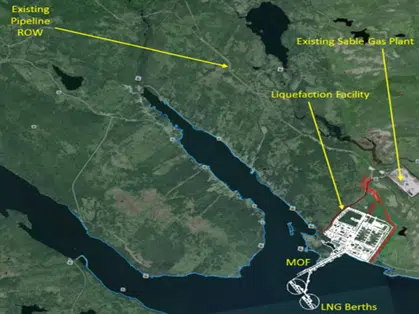 Officials pushing for a liquefied natural gas plant in Guysborough Co. say they hope to solidify their supply situation and make a construction decision by the end of the summer.
Alfred Sorensen, the chief executive officer of Pieridae Energy, says they're clearing the site for the proposed Goldboro LNG plant right now, and getting ready for major site preparation.
Sorensen tells The Hawk there's a pair of obstacles left to be addressed.
"I'd say we're kind of moving into the last phase of the development program; we are actively working on revolving our supply situation," he says. "If there are two areas of risk remaining in the project, it's the upstream supply and the long-term financing."
Sorensen says they're very confident reps with their recently-hired banking consortium can raise the roughly $8-to-8.5 billion to build the facility; the total cost for the project is expected to be about $10 billion.
He says for production, they could either sign a long-term deal with western Canadian producers or consider bringing LNG directly to Goldboro by merging with another production company.
"Both of those two scenarios are well underway," he says. "We expect by the end of summer, we'll have solidified the supply situation."
Sorensen says they'll make a final construction decision by the end of summer.
He says it would take about four years, with the goal of being online by late 2022 or early 2023.
Photo credit: Goldboro LNG (www.GoldboroLNG.com)