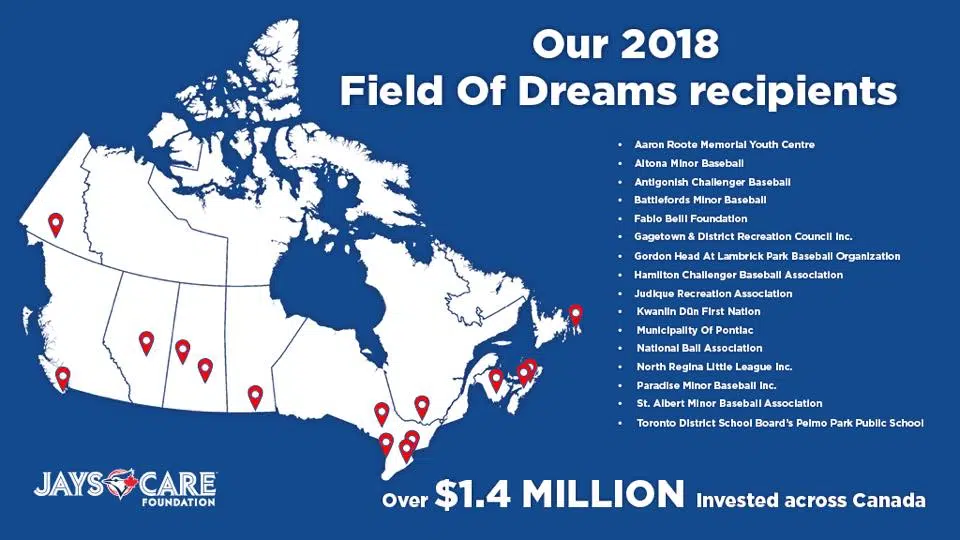 Representatives with Antigonish Challenger Baseball says receiving $150,000 will put a big dent in their fundraising goal.
Randy Crouse, the organization's coordinator, says the money from the Toronto Blue Jays' Jays Care Foundation puts them more than halfway toward their $400,000 target.
He says a turf infield, wheelchair-accessible dugouts and general accessibility improvements are all on their radar.
Crouse told The Hawk Morning Show the money will benefit more than just those involved in challenger baseball.
"A few years ago, we sat down with minor softball, minor baseball, challenger baseball and the town and said 'We're growing fairly well- we have opportunity to do things on a provincial, local and national level'," he said. "'We really need fields that are a little more updated, a little safer and a little more accessible'."
Crouse said town officials are contributing $150,000 toward the three fields in the community.
He said they're excited for the project.
"Our next step is, once we settle down from this, continue to do what we're doing, and hopefully raising a little more money," he said. "(We'll) hopefully continue to build sometime this summer into the fall."
Crouse said the adapted program is for children with cognitive and physical disabilities, who are partnered with "buddies" to help them play the game.
He said there have been no grants for any program in our province in the last five years of Jays Care Foundation contributions, but there are two are from the Quad Counties in 2018; Judique Recreation Association reps are also getting $150,000.