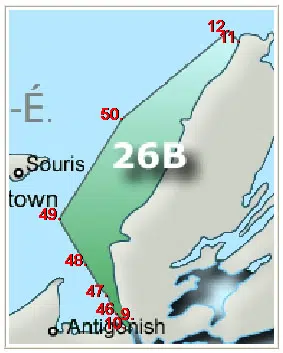 Lobster traps are in the water in many areas of the Quad Counties.
Fishermen in the southern Gulf of St. Lawrence from Big Island in Pictou Co. to Havre Boucher (Area 26A-2) and from Inverness to Aulds Cove (Area 26 B-South) returned to the water to set traps Monday morning.
They'll haul their traps for the first catch of the season Tuesday.
The area of northern Inverness Co. (Area 26-B North) from Margaree to Pleasant Bay is scheduled to open May 7.
The season along several sections of the Eastern Shore for Guysborough Co. fishermen is already underway.
Photo credit: Department of Fisheries and Oceans (www.glf.dfo-mpo.gc.ca)