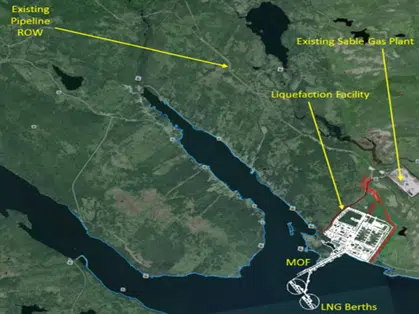 The warden of the Municipality of the District of Guysborough says there's been another very positive step toward getting a proposed liquefied natural gas facility off the ground.
Officials with Pieridae Energy announced they entered into a term sheet to negotiate a binding LNG sale and purchase agreement to supply their product to Europe May 7.
Representatives with the European Utility will buy as much as a million tonnes of LNG per year for 10 years; the start of the contract will coincide with the start of commercial deliveries, which is estimated to be in early 2023.
After May's regular municipal council meeting Wednesday afternoon, Vernon Pitts, Guysborough's warden, told The Hawk they're optimistic.
"Pieridae continues to make progress going forward- they've achieved a number of milestones, be it customers, or property, or companies, gas, supply, capacity," he said. "They're doing all the right things and they're going down the right road."
Pitts said a Utility and Review Board hearing in Goldboro on Pieridae reps' application for a permit to construct was very well-attended Monday.
He said UARB will make the next move.
"There's a certain period where they'll take submission for or against," he said. "They'll make a decision following that, within a certain time frame."
Pitts said the site for the proposed project has been cleared, and he's hopeful construction could start before the end of 2018.
Photo credit: Pieridae Energy (www.GoldboroLNG.com)