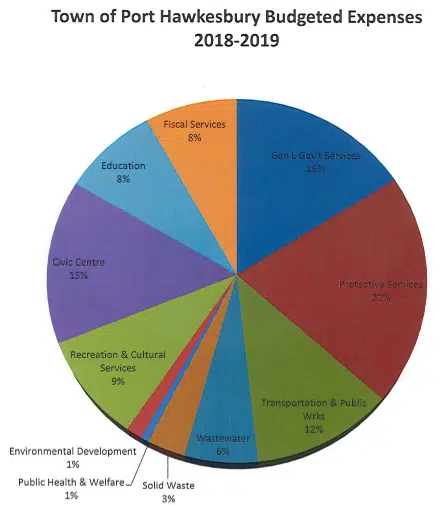 Town officials in Port Hawkesbury say passing their 2018-19 budget unanimously shows confidence from councillors and staff members.
Erin MacEachen, the town's chief financial officer, said staff meetings started in February; councillors approved the budget at June's regular town council meeting Tuesday night.
She said the Pitt and Napean St. reconstruction project, resurfacing of Reynolds St. and the tennis court, and exterior arena work at the Civic Centre were all highlights.
Councillor Trevor Boudreau said he was pleased some priorities highlighted by town employees and councillors were included in the $7.8 million budget.
After Tuesday's meeting, Brenda Chisholm-Beaton, the town's mayor, said it's a positive document that invests in the town's future.
"I think that it sends a message that we were able to maintain our tax rate and still invest $7.8 million into a capital plan," she said. "That shows a lot of confidence with regard to our future here in the Town of Port Hawkesbury."
Tax rates remain $1.80/$100 of assessment for residential customers and $4.38/$100 of assessment for commercial.
Chisholm-Beaton said it's important to make sure living in the area is affordable.