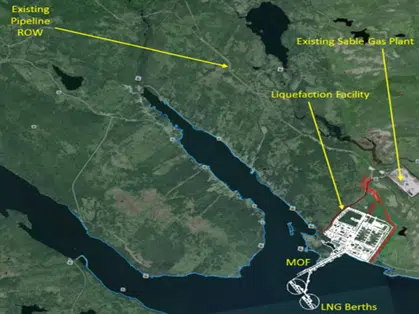 A proposed liquefied natural gas project in Guysborough Co. has taken another step.
Alfred Sorensen, the CEO of Pieridae Energy Ltd., says their acquisition of Calgary-based Ikkuma Resources Corp. is what was needed to move forward with Goldboro LNG.
He says Ikkuma will provide the supply needed to fill the first five years of production.
Sorensen tells The Hawk they're still waiting on a few things.
"We're still focusing on trying to reach our final investment decision before the end of (2018)," he says. "(That's) still dependent on receiving our construction permit from the Nova Scotia (Utility and Review) Board- that's paramount."
Sorensen says supply is important- without it, there would be no project.
He says the budget hasn't changed much.
"It's certainly still sitting in around $7.5-to-$8 billion US."
Sorensen says they hope to start site preparation in early 2019, dependent on their final investment decision.
He says the facility would take roughly five years to construct.