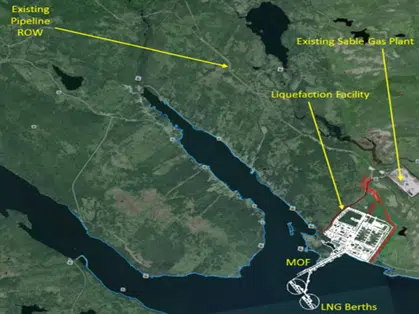 Guysborough's warden says he doesn't anticipate any problems with an upcoming utility and review board hearing for a proposed liquefied natural gas project in the municipality.
UARB members will hold a public hearing on Goldboro LNG reps' application for a permit to construct in Halifax Oct. 15.
Warden Vernon Pitts said after Wednesday's monthly municipal council meeting the project would be huge for the area.
"In the first year we're going to be looking at approximately 4,000 people as an increase in our population, and that's just work force," he says. "Whereas individuals moving with their families, that's going to be quite significant, it's going to have a very significant impact on our housing, traffic."
Pitts said municipal officials will be at the UARB hearing and that they'll either present or observe.
"The municipality will be taken place, will be taking part in the UARB hearing," he says. "If not making a presentation we'll be at least there as observers."
Company reps have said they would like to start site preparation for the five-year construction project early next year.