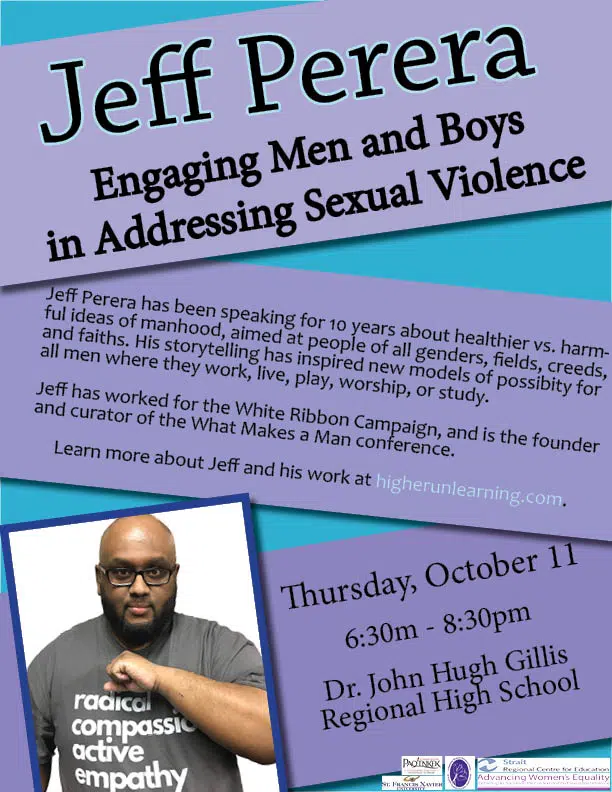 There will be a public event on sexual violence in Antigonish Thursday.
The event will focus on new ways to engage boys and men to address systemic and cultural norms that permit and allow sexual-based violence.
A spokesperson with the Antigonish Women's Resource Centre says it's open to anyone; organizers are leaving it up to parents to bring their children.
Annie Chau tells The Hawk they're hosting the event to discuss an important topic.
"Through this project, we're looking at addressing sexual violence," she says. "One of the concerns across all of our partners, communities, and institutions is how do we engage men and boys, so we have organized this forum and this talk."
Chau says they won't get into inappropriate details that may affect younger people who are attending.
She says everyone has a role to play stopping the violence.
Chau says there will be more than just Thursday's talk.
"We have a forum planned, actually, on the Friday after Thursday night's keynote," she says. "(It's) to really engage with people on the issues (and) also on practical skills."
Chau says there are still some spots left, and you should contact her if you're interested.
The public event takes place at Dr. J.H. Gillis High in Antigonish at 6:30 p.m.