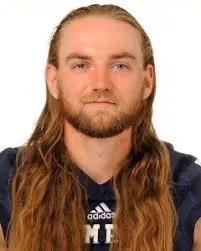 X-Men football kicker/punter Keiran Burnham has received AUS Player of the Week honours.
He kicked the game-winning field goal from 31 yards out with seven seconds left in the game.
He also had a field goal from 24 yards in the third quarter, along with seven punts in the game for 241 yards (34.4 avg) and four kick-offs for 221 yards (55.3 avg).
Three of his punts were downed inside the 20.
Burnham currently leads the AUS in punting average at 39.7 per punt. He also leads in field goals made with 16 and field goal percentage.