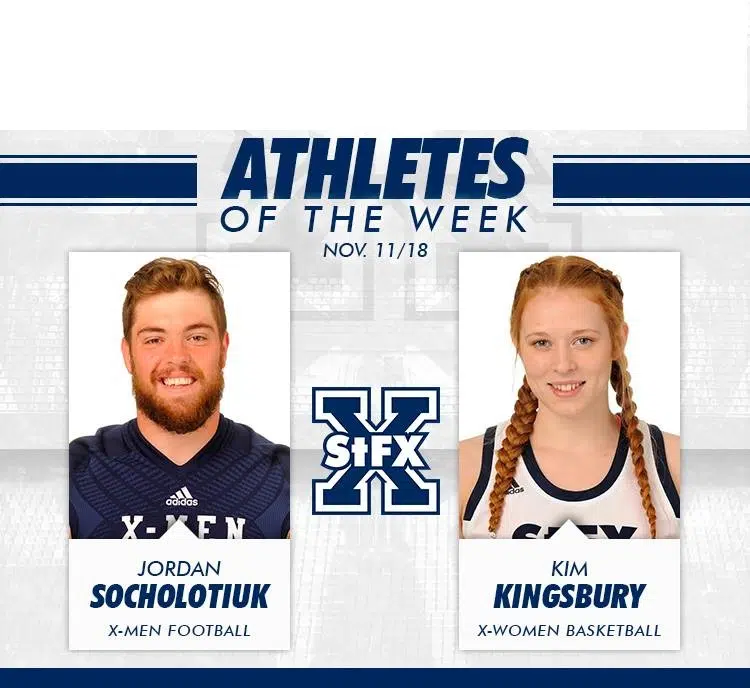 Officials in the StFX athletics department have announced their latest athletes of the week.
Jordan Socholotiuk, a running back with the X-Men football team, is the male winner after he had 34 carries for 179 rushing yards in StFX's 33-9 win against Saint Mary's in the AUS title game in Halifax Saturday; he was named Loney Bowl MVP.
Kim Kingsbury, a guard with the X-Women basketball team, earned female honours; she was StFX's leading scorer in Saturday's loss to Cape Breton in Sydney with 17 points, while adding six rebounds, three assists and three steals.
Socholotiuk, defensive lineman Alex Fedchun and defensive back Jeremy Pike are the StFX football players of the week.
Fedchun, who is the defensive player of the week, had eight-and-a-half tackles in Saturday's Loney Bowl win, including six solo tackles; he also had two-and-a-half sacks and a forced fumble.
Pike, the special teams player of the week, was recognized for his work on the X-Men special teams unit; he had three tackles, an interception and forced fumble in the game.