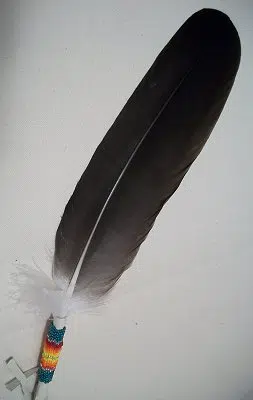 The chief of a First Nations community in the Quad Counties says there's been another important step toward reconciliation.
P.J. Prosper, the chief of the Paq'tnkek First Nation in Antigonish Co., took part in Thursday's ceremony to allow Indigenous people appearing in courthouses in the province to take legal affirmations with a sacred eagle feather.
Judiciary officials say people may hold the feather or have it placed in front of them while they affirm to tell the truth, much in the same way a Bible is used.
Prosper tells The Hawk there was a general consensus to incorporate the eagle feather into the province's courthouses.
"It provided more of a meaningful and appropriate mechanism for Aboriginal people to provide that evidence in certain instances, as opposed to swearing on a Bible."
Judiciary officials say each main courthouse will have one feather for courtroom use, and a second for the front counter.
Prosper says the sacred feather is significant to the Mi'kmaw and other Indigenous people.
"It sort of binds the person who holds the feather to honour that sacred connection, that sacred convenant, that exists with Kisu'lk, the Great Spirit."
Prosper says it's a good start, but more must be done to help Aboriginal people within the justice system.
He says there are a number of gaps that need to be taken into consideration, including disproportionate rates of incarceration within the Aboriginal community compared to the general public.