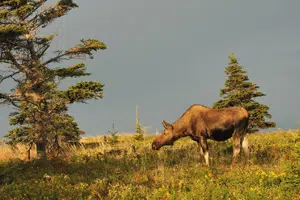 A moose cull is underway in Cape Breton Highlands National Park.
The harvest, which takes place in a 20-square kilometre section of North Mountain, is into its fourth and final year; it started Nov. 7, and could last until Dec. 3.
Rob Howey, the resource conservation manager at the national park, says the cull is part of a larger effort.
Howey tells The Hawk they're trying to restore the park's boreal forest.
"The boreal forest in the park is struggling," he says. "After the 1970's spruce budworm outbreak, it was never really allowed to recover because there was a boom in the moose population that ate all the young trees that were generating."
Howey says safety measures are in place; there's a closed section near where the harvest is taking place, and a no-stopping zone on the Cabot Trail in the North Mountain area.
He says the harvest is just one part of their effort.
"That includes planting trees- we've planted over 57,000 trees to date," he says. "Also, (another part was) building fencing to exclude moose from browsing young trees."
Howey says Mi'kmaq hunters are conducting the harvest, as they have the first three years.
He says more than 15,000 pounds of meat from the 2017 harvest was distributed to various Mi'kmaq communities in the province, as well as Feed Nova Scotia and the North of Smokey Food Bank.
The cull is facing criticism regarding costs, which average $7,900 per dead animal.
The owner with an area craft shop says her research has led her to consider the hunt too costly for federal taxpayers.
Rose Courage says she also disagrees with killing wild animals in a national park.
A park costs summary for the first three years of the harvest totalled roughly $731,000; the biggest ticket items were helicopter flights for hunters into the remote area, surveys, and travel and overtime costs for wardens.
RCMP documents indicate the 2015 and 2016 culls added almost $250,000 in policing costs.
Photo credit: Parks Canada